Well, that was fun. Apparently you really like digging for weird meat products. The results were hilarious and gag inducing. Now, I take my responsibility for selecting the winners seriously, so I'll walk you through the results, and then announce the winners.
First, I'm definitely looking for real meat products– so as much as I like SPARKLE MEAT we're setting aside the canned unicorn.
Also, as much as I love some of these, I'm going to also set aside weird meat from cultures outside the U.S.
I know that fish like this makes me flinch, but I'm pretty sure this a cultural reaction.
OMG TEH TEEEEEEETH!
I'm not going to judge the baby mice, either. I mean… not much.
I guess they're kind of squishy, but at least they're recognizably little mice.
And while the Monkey Brains are topical… they just aren't as INDUSTRIAL as I'd like.
Okay, I admit, I gagged a little when I saw them.
And yet there are still so many choices!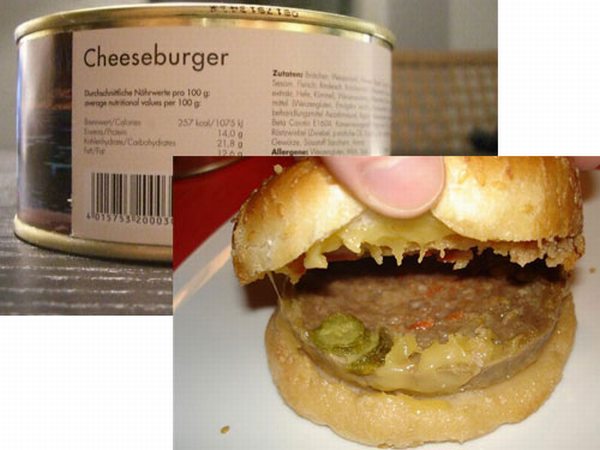 Cheeseburger, anyone?
As much as I love this one, it's not just meat, because there's some bread and.. is that a pickle? So as wonderfully nasty and industrial as this is, I'm forced to set it aside.
And so, The Winners:
Now, this is hard enough to decide that I've actually chosen a couple of winners.
1) Canned Chicken. OMG.
LOOKIT THAT POUR!
These indelible images came from two different people, but I think each image captures something so special that I feel I must award two prizes, so Twitterers @rdelgadoCF and @BlytheMarshall are both getting personalized copies of ZOMBIE BASEBALL BEATDOWN.
But wait, that's not all, as I feel there is another class of products that live in the realm of "mystery meat." Some of these, like head cheese (google it, I dare you) and canned haggis definitely stand out, but for sheer sunny panache, I'm most attracted to this entry.
SMILE!
This one came to me from multiple places, but Jonathan Danz on Facebook was quickest to the link, so he's getting a copy of ZOMBIE BASEBALL BEATDOWN, as well.
To be honest, there was such a fantastic flood of weird industrial meat products that I wish I could award prizes to all of you who sent pics and links, but I'm going to cut myself off at these three and thank you all for making the launch of Zombie Baseball Beatdown so much fun.